Our Foundation Flow classes are the perfect place for beginners to start their journey or for any student who wants to review the foundations of their practice. Classes will focus on guiding you through key asana (postures), alignment and pranayama (breath techniques) Students will learn how to modify postures appropriately, with mindful considered movement. Finishing with a 15 minute meditation to have you feeling empowered to join our Mindful Flow classes.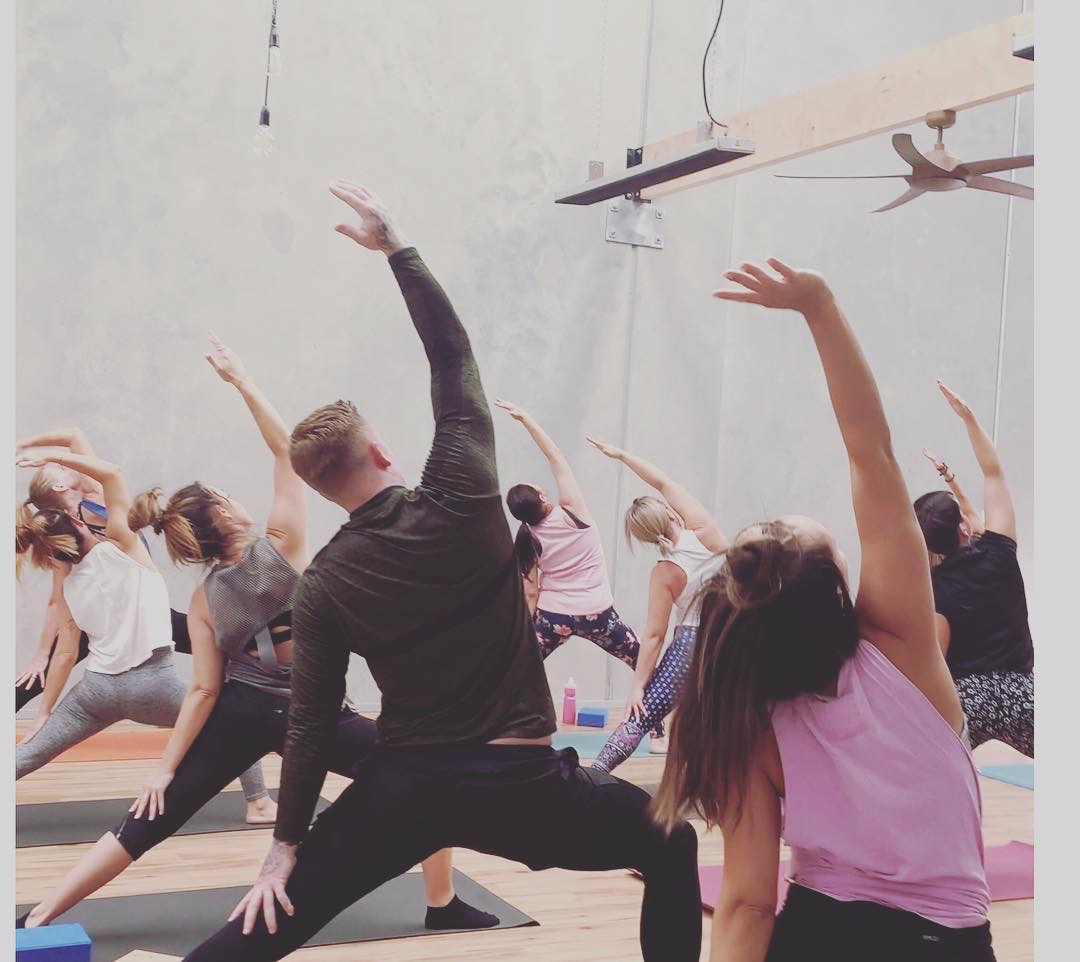 Our Mindful Flow classes includes moderate paced flows focused on the breath to entry-level strength content. These classes typically offer some modifications and detailed instructions on fundamental postures. Students can expect to feel comfortably challenged. We welcome beginners to more seasoned practitioners who prefer a steady paced practise.
If it's your first time practising yoga, we suggest you attend at least one Foundation Flow class first.
Our Power Flow classes includes flow and strength content designed to challenge your current limitations physically and mentally. These classes tend to focus on building into more challenging asana. You will build strength and body awareness by exploring more complex transitions and by having a play into inversions and arm balances.
These classes are catered to Intermediate-Advanced practitioners.
We recommend that you feel competent in a Mindful Flow class prior to attending a Power Flow.
Our FBM class is a total fusion of Yoga, Pilates and Functional Body Movement.
Classes utilises yoga asanas (postures), blended with Functional strength and mobility movements, teachers may incorporate use of hand weights and bands to strengthen, tone and sculpt the whole body.
Our Yin is a super chilled class that include deep openings and gentle movement. Postures are typically seated or laying down and held for 3-5 minutes at a time often with the assistance of props. These are slow paced classes that allow space and time to cultivate awareness and reflection. As you learn to tune out the daily grind and focus on slowing down and listening to your body. Appropriate for all levels of experience.
Our Yin 'n' Roll classes are a gentler practice where the postures are held for 3 - 5mins often with the assistance of props you will also be guided with delicate rolling techniques to open up the joints through de-activating the muscle's and furthering their capabilities to more movement while re-hydrating the muscle's through pressure point ball release techniques. Appropriate for all levels of experience.
Our Pranayama Meditation class focus on two things stillness and breathe For this class, you will start with Pranayama breathe work to settle the body before Meditation, which can be seated or lying down.
This Pranayama Meditation class will help you relax your mind and body and allow you to experience a sense of stillness.
appropriate for all levels of experience.
This class is every 2 weeks. (1ST and 3RD Friday of the month) Feel Good Friday's will leave you glowing. 1ST week you will be lead through a soulful, smooth yoga flow to live sonic soundscapes. be carried through lush ambient music, groovin' beats, and everything in between, expect to sweat, smile and be carried away.

The 3RD week come sit with us as you are guided through a beautiful meditation sound healing of the connection to the frequency of universal language.
Kids yoga is FUN and interactive! Children's yoga classes offer fast and active play while warming up or playing with yoga poses. As well as quiet more focused time while holding certain poses or practicing relaxation exercises. Each class includes yoga poses, stretches, games, breathing, and relaxation. Children are co-creators of the class. Partner and group poses, cooperative games, self-expression and creativity are the fundamentals of yoga for children. Doing a pose 'perfectly' is not the aim of children's yoga. There is a balance between spontaneity and structure.

There is no other form of exercise that offers such a wide range of movement including bending forwards and backwards, twisting, side-bending, strengthening, stretching and balancing. It not only exercises the body but also exercises the mind and strengthens the breath.
Zen Kids Yoga Classes
Friday's: Little Zen Kids
3.30 - 4.45pm: Pre-Primary-Year 2
Thursday's: Zen Kids
3.30 - 4.45pm: Years 3-6